Ninja is a superhero made by 
Sport Shouting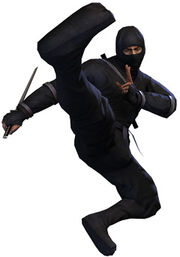 Jason Penna, a 25 year old man in New Mexico, wants crime to end there. Hiring a tech expert to create him tech weapons, Ninja fights gang members and cartel men to start, then going after villains. He got on the map by incarcerating head cartel member, Rafael Lagares. His main weakness is that he hates to kill and some enemies will commit suicide to hurt him mentally. He often maims and injures to stop crime. Today, Ninja patrols the streets for criminals and beats them to a pulp. 
Weaponry/Equipment
Edit
Wakizashi Sword
Sleeping Dart Gun
Radio Hacker
Smoke Grenade
Shuriken
Electric Shuriken
Grapple Gun
Stingball Grenade
Known Photos
Edit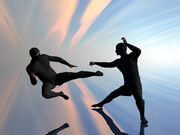 Ad blocker interference detected!
Wikia is a free-to-use site that makes money from advertising. We have a modified experience for viewers using ad blockers

Wikia is not accessible if you've made further modifications. Remove the custom ad blocker rule(s) and the page will load as expected.